Join Our Referral Program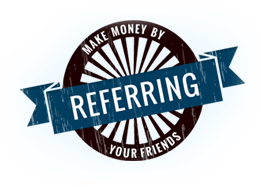 Thank you for considering our referral program. Since 1995, when Virginia law made obtaining a Concealed Handgun Permit easier and issuance standardized throughout the state, teaching concealed carry fundamentals has become quite a cottage industry. Countless hundreds have joined the ranks of those teaching firearms training or safety classes, and it has been a financial windfall for those who have been able to offer these classes. We are offering you the opportunity to benefit now as well.
The Concealed Carry Institute provides a $6.00 commission to each person who enters your referral number when taking our Handgun Safety Class. That amount also applies to their friends, family members, and co-workers as long as they enter your referral number when registering. As long as anyone uses your referral number, you will receive $6.00. Imagine getting paid repeatedly from just one good referral. It's as easy as that, and quite likely to happen because people often recommend positive experiences to those they know.
You will be sent an E-mail notification whenever someone you have referred takes the class, and you will have access to your account 24/7 to verify activity. Checks are mailed by the 10th of the month for all transactions that occurred during the previous month, whether you had one referral, one hundred or one thousand.
Participants in this program will be assigned an easy-to-remember referral number, and to make your job easier, The Concealed Carry Institute offers you the ability to print business cards from this web site that include your name and unique referral address. It is not necessary to purchase anything to join this program.
Of course, before joining, you should talk to your employer to make sure that your participation at work does not violate any company rule or policy. However, referrals can also come from church and social group gatherings, friends, neighbors, bulletin boards at supermarkets, barber shops and beauty salons, restaurants, service stations, bowling alleys, etc. Your spouse may have another set of friends and co-workers who are potential referrals, too.
This is a wonderful opportunity to make extra money while providing the public with a needed service. There is absolutely nothing to buy or pay to join this program. Sign up today and start earning money tomorrow!
Notice: The Concealed Carry Institute reserves the exclusive right to refer from Internet search engines; it is not possible to receive a referral fee for one's self, and effective August 1, 2008, commissions will be paid once an agent refers his or her third person.